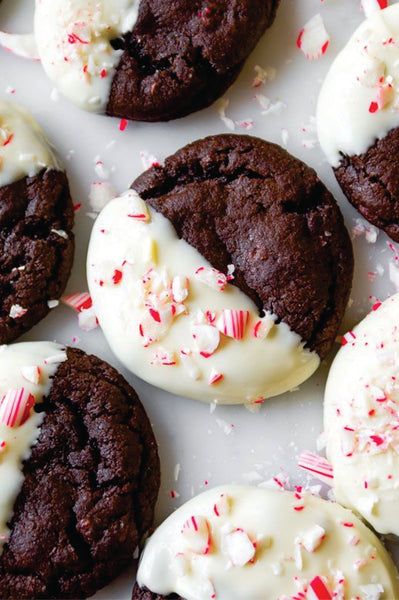 Deluxe chocolate peppermint cookies
Indulge in one of Santa's guilty pleasures this Holiday season with a batch of rich chocolate cookies infused with peppermint. This combination of melt-in-your-mouth chocolate and crushed peppermint candies will have your taste buds singing Christmas carols. Add a little flare to your cookies by dipping them in white chocolate and sprinkling them with peppermint.
This versatile treat is an attractive plate for a good ol' fashion Christmas party or could make a delicious snack for you and your children at the counter table. For your own pleasure add a glass of milk.
The best part of this recipe is how quick and simple the process can be. All needed ingredients are easy to find in the baking aisle of your local grocery store. 
Ingredients
2 cups all-purpose flour

1 teaspoon baking soda

1/4 teaspoon salt

2/3 cup cocoa powder

1 teaspoon peppermint extract 

12 Tablespoons unsalted butter, softened

1/2 cup granulated sugar

3/4 cup dark brown sugar

1 Tablespoon vanilla extract

2 large eggs

1 1/2 cups milk chocolate chips

additional chocolate chips, for topping
Finesse 
melt 8 oz. of white chocolate baking bar and dip cookies
crush candy canes and sprinkled bits over impressionable chocolate 
allow chocolate to harden with peppermint for 5 minutes 
Plate these cookies on a farmhouse walnut round paddle board to present with style.